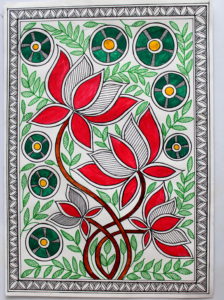 Click on above image and copy the real image of best quality, and then print it for use.
PLEASE VIEW THIS VIDEO TO SEE THIS PAINTING LIVE
Madhubani art (or Mithila art) is practiced in the Mithila region of Bihar, India and Nepal. Painting is done with fingers, twigs, brushes, nib-pens, and matchsticks, using natural dyes and pigments, and is characterised by eye-catching geometrical patterns.
Materials for Mithila Painting
CONECO Artists Water Colour Paper 100% Cotton
Brustro Artists' Watercolour Paper 300 GSM A4 – 25%cotton, Cold Pressed
Camlin Kokuyo Premium Poster Color – 10ml each, 6 Shades
Camlin Kokuyo Artist 5ml Water Color Set – 12 Shades (Multicolor)
Faber-Castell Paint Brush Set – Round, Pack of 4
Hauser VX Water Proof Gel Ink Black Pen Pack of – 40