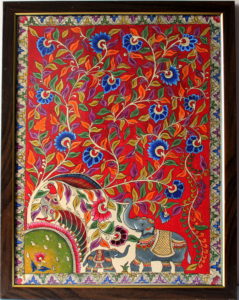 Kalamkari is a type of hand-painted or block-printed cotton textile, produced in Indian states of Andhra Pradesh and Telangana. Only natural dyes are used in Kalamkari and it involves twenty three steps. In this video, I have simplified all 23 steps into 5 simple steps , which is possible to make for every one using fabrica/ acrylic clothe. PLEASE DO SHARE & SUBSCRIBE MY CHANNEL.
MATERIALS REQUIRED:
1) Cotton Fabric/ Cloth ( cream/ peach color)
2) Fabrica paint 3) Round hair Brush no. 1 ,2 ,0,00
4) Yellow carbon paper
Click on above image and copy the real image of best quality, and then print it for use.
PLEASE VIEW THIS VIDEO TO SEE THIS PAINTING LIVE