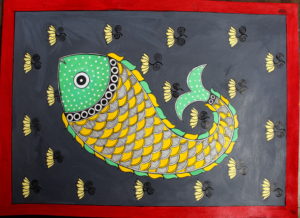 Madhubani art (or Mithila art) is practiced in the Mithila region of Bihar, India and Nepal. Painting is done with fingers, twigs, brushes, nib-pens, and matchsticks, using natural dyes and pigments, and is characterised by eye-catching geometrical patterns.
Materials for Mithila Painting:
1) HAND MADE SHEET / CONECO Artists Water Colour Paper 100% Cotton https://amzn.to/2ldpZVS OR Brustro Artists' Watercolour Paper 300 GSM A4 – 25%cotton, Cold Pressed https://amzn.to/2JQf4Mr
2) Acrylic colors / Camlin Kokuyo Premium Poster Color – 10ml each, 6 Shades https://amzn.to/2JHDR9g OR Camlin Kokuyo Artist 5ml Water Color Set – 12 Shades (Multicolor) https://amzn.to/2JSHi96
3)Faber-Castell Paint Brush Set – Round, Pack of 4 https://amzn.to/2yc5FNG
4)Hauser VX Water Proof Gel Ink Black Pen Pack of – 40 https://amzn.to/2tcZenM
Click on above image and copy the real image of best quality, and then print it for use.
PLEASE VIEW THIS VIDEO TO SEE THIS PAINTING LIVE