MEENAKARI PAINTING: Meenakari is the art of coloring and ornamenting the surface of metals by fusing over it brilliant colors that are decorated in an intricate design. … Initially, the work of Meenakari often went unnoticed as this art was traditionally used as a backing for the famous kundan or stone-studded jewellery. Rajasthan has influenced Indian jewelry with its Meenakari works that are stunning and highly in demand among ladies who loves traditional jewellery. To make a MEENAKARI PAINTINNG, I have used the same concept of jewellry making into painting, by making use of clay paste, gold and meenas/ stones to make meenakari jewellery in the painting. Hope you would like my idea of meenakari painting to continue the tradition of this beautiful jewelry art.
MEENAKARI PAINTING MATERIALS:
1) Fine Marble Powder https://amzn.to/2CbjvzD
2) Fevicol Mr White Glue https://amzn.to/2TlFsXn
3) WATER
4) Fevicryl Acrylic Colour https://amzn.to/2EU9CrF
5) Canvas Board https://amzn.to/2To44yO
6) MEENAS/ KUNDAN STONES https://amzn.to/2QJMhRd
7) Jewellery Making Chains and Stone Lace https://amzn.to/2QFD9Nr
8) Liquitex Gloss Varnish https://amzn.to/2HlXlyD OR Clear Resin and Hardner High Gloss https://amzn.to/2CfQnHh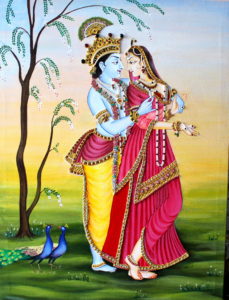 Click on above image and copy the real image of best quality, and then print it for use.
PLEASE VIEW THIS VIDEO TO SEE THIS PAINTING LIVE