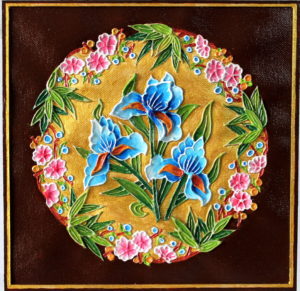 Relief is a sculptural technique, where the sculpted elements(CLAY/ TEXTURE PASTE) remain attached to a solid background of the same material.The term relief MEANS to raise.To create a sculpture in relief is to give the impression that the sculpted material has been raised above the background plane. RELIEF PAINTING can be made in two ways, either cut the surface in one by one layer to create the relief OR create layers on overlapping layers to create the relief.
Please watch PERSIAN/ RELIEF ART MATERIALS & CONE MAKING video: https://youtu.be/vS_IMzllYLA
MATERIALS REQUIRED FOR PERSIAN ART AND RELIEF PAINTING:
1) CANVAS BOARD / PLY WOOD(minimum 5mm thick) 12*18 INCH https://amzn.to/2M2gyZn
2) MARBLE POWDER https://amzn.to/2VNdArw
3) ARABIC GUM https://amzn.to/2MkvFhh
4) Camel Artist's Oil Color Box https://amzn.to/2HyHBYj
5) Faber-Castell Paint Brush Set https://amzn.to/2Hxnfyp
6) PLASTIC SHEET for cone making
7)CUP & SPOON
8)Masking Tape/ TAPE https://amzn.to/2JAuTKM
9)Multipurpose Scissors https://amzn.to/2VMdh07
Click on above image and copy the real image of best quality, and then print it for use.
PLEASE VIEW THIS VIDEO TO SEE THIS PAINTING LIVE