Thanjore painting
Thanjavur painting is a classical South Indian painting style, which was inaugurated from the town of Thanjavur . Thanjavur paintings are characterised by rich and vivid colors, simple iconic composition, glittering gold foils overlaid on delicate but extensive gesso work and inlay of glass beads and pieces or very rarely precious and semi-precious gems. Tanjore paintings mainly consist of themes on Hindu gods and goddesses, with figures of Lord Krishna in various poses and depicting various stages of his life being the favourite. It is believed that, to bring a Tanjore painting home will bring happiness and prosperity to the family.
MATERIALS REQUIRED FOR TANJORE PAINTING VIDEO https://youtu.be/pmnT5jUzt4Y to know about all the materials in detail. MATERIALS
1) BASE: Plywood 1 Inch thick for big size of painting / Canvas Board for small painting 10* 12 inch/ 8*10 inch https://amzn.to/35wMWZL
2) Cotton cloth 1 meter for 90 rs
3) Gravelart Marble Dust Powder(White) https://amzn.to/2EjTUFn
4) Arabic Gum https://amzn.to/2LVLzf7
5) Fevicol MR Squeeze Bottle https://amzn.to/38CFxtF
6) Gold foil
7) Meenas/ Jaipur kundan Stones(multi color round, square & rectangle) 8) Kundan Stones https://amzn.to/2PJ7F5S
9) Yellow carbon paper
10) Reference https://www.creativearthome.com/
11) cone making paper
12) Camel Premium Poster Color https://amzn.to/2Ppg2od or Camlin Acrylic Color Box https://amzn.to/38E0vbD
13) Chalk Powder
14) Tanjore Oxide Powder
15) Sand Paper 220CW
16) Crafts Knife Cutter Tool with 5 Blades https://amzn.to/35mYgra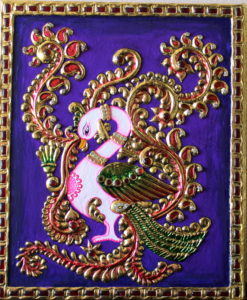 Click on above image and copy the real image of best quality, and then print it for use.