Pichhwai are devotional pictures found on cloth or paper which portray Lord Krishna. They originated in the Deccan, India, and the villages of Aurangabad and Nathdwara in Rajasthan state. The purpose of Pichhwais, other than artistic appeal, is to narrate tales of Krishna to the illiterate. The word Pichhwai stands for hanging at the back (Sanskrit word "Pichh" means back and "wais" means hanging).
MATERIALS NEEDED:
1) ACRYLIC PAINT-https://amzn.to/2On7NrO
2) PAINT BRUSH- https://amzn.to/3b7kFMe
3) PLASTIC PLATE
4) VARNISH- https://amzn.to/2Srzill
5) CARBON PAPER for tracing
6) PAINTING REFREINCE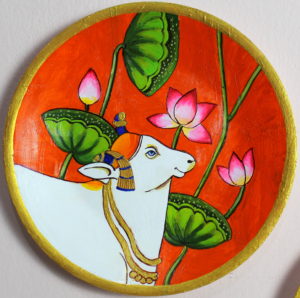 Click on above image and copy the real image of best quality, and then print it for use.
PLEASE VIEW THIS VIDEO TO SEE THIS PAINTING LIVE